Lakhani Armaan Group is a name that has marked it presence across the Indian and global geographies and acquired a prominent position as a reputed business establishment.
The group came into existence in the year 1966 with Lakhani Rubber Works, an automotive components manufacturing company established by Mr K C Lakhani. It was his vision that soon translated into the success of this company followed by the expansion of the group's business activities into footwear manufacturing.
After eight years of its establishment, the group entered into manufacturing of beach slippers and soon it also started producing canvas shoes and sports shoes. There was no looking back since then and the group in the present day holds a prominent position in the footwear as well as automotive industry.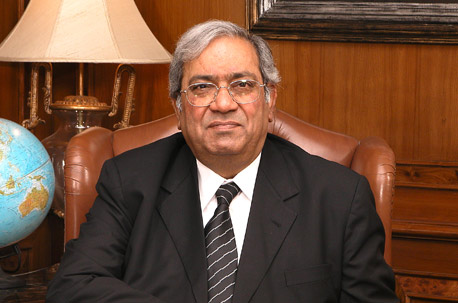 Mr. K. C. Lakhani
(Chairman)
This multifarious group has setup manufacturing facilities at Haryana
Faridabad

(Haryana)

Noida

(Uttar Pradesh)

Haridwar

(Uttaranchal)

Dhar

(MP)
with a total land area of about 220000 sq. mtrs. With more than 8000 employees across the units, Lakhani Armaan Group is constantly growing towards a brighter, better and prosperous future.
Today, Lakhani is one of the largest manufacturer of beach slippers in India and one of the largest manufacturer of sports shoes with a total manufacturing capacity of 555 million pairs per year. The group has also formed a tie-up with Adidas and has been manufacturing sports shoes for this leading brand since the last 21 years.
Group Companies
Lakhani Armaan Group has widespread operations. The company manufactures a wide range of products under various brands and at different manufacturing locations. The group manufactures footwear for ladies, men and children. It also manufactures automotive rubber components. The company has created several brands in the footwear industry like Coolak, Tonino, Goodtime, Touch, Classic etc.
Today Lakhani is a household name because of the company's world class products and standards. The company's under the group are:
Lakhani Footwear Pvt. Ltd.
Lakhani Rubber Products Pvt Ltd.
Lakhani Shoes & Apparels Pvt. Ltd.
Mascot Footcare
Lakhani Rubber Works
Lakhani Sales Corporation
Lakhani Armaan Shoes Pvt. Ltd.
Lakhani Charitable Trust
Mission
To give the best quality products at the most affordable prices. The name of Lakhani Armaan is synonymous with quality.
Vision
To be a brand leader and translate our 50 years of experience into success and achieve customer satisfaction in both the footwear market and the auto component market.